Father's joy over Richard Plummer's recovery in Kent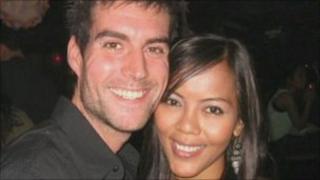 The father of a man who was critically injured in a crash in Bali said he was "overwhelmed" when his son laughed for the first time since the accident.
Richard Plummer, 32, was flown to the UK in an air ambulance on 31 July after his parents borrowed £80,000 for the mercy mission from Indonesia.
He regained consciousness in August and was recently moved to a rehabilitation unit in Sevenoaks.
His father, Eric, 75, said he thought his son had "turned a corner".
He added: "Just about a week ago, suddenly his whole character changed. Until then he was confused, quite aggressive, uncooperative, he didn't want to do the physio.
"Something changed and he was affection to everybody, my wife, his girlfriend and [medical] staff."
Life savings
Mr Plummer said his son's behaviour seemed to change when his pregnant girlfriend Indri gave him a grooming kit that she had brought with her from Bali.
"It was amazing," he said. "The news was overwhelming. We saved him. I was beginning to wonder whether he was going to carry on like that, being angry and aggressive.
"We can now talk to him and have a proper conversation. We've got our son back.
"It was as though something clicked, he was laughing and smiling. I'd not seen him laughing and smiling since before the accident."
Mr Plummer, who lives in Maidstone, said his son still did not have proper use of his right side but doctors thought he would be able to walk again in months rather than years.
He and his wife June spent their £20,000 life savings to pay for care for their son, who had not renewed his travel insurance.
A private benefactor, who wished to remain anonymous, agreed to lend the family £80,000 to cover the cost of the air ambulance and fundraising events are being held to help pay it back.
Richard Plummer had been living in Bali since 2009.
His family feared he might die if he could not be flown home to a hospital with suitable facilities.