BAE job losses 'could cost taxpayers £110m'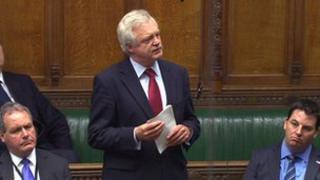 Taxpayers could face a £110m redundancy bill for the proposed 3,000 BAE job losses, an MP has claimed.
BAE revealed job losses at sites in East Yorkshire and Lancashire in September to "ensure long-term future".
Conservative David Davis said the taxpayer could be liable under rules designed to provide guarantees for sensitive industries.
He said it was "outrageous" that rules designed to "protect British jobs" could help make workers redundant.
Nearly 900 workers are facing redundancy at the factory in Brough, East Yorkshire and about 1,400 jobs are due to go in Lancashire at Samlesbury and Warton.
A 90-day consultation was launched by the defence contractor into the job losses, which is expected to finish on Boxing Day.
'See you in court'
MPs in the House of Commons debated on the future of British skilled defence jobs on Thursday.
Haltemprice and Howden MP Mr Davis said: "When BAE lays off 3,000 workers, it's not the BAE shareholders who are going to meet the cost.
"The way the system works is that between £60m and £110m will be paid by the taxpayer - not by BAE - in order to destroy 3,000 jobs.
"This is outrageous: a policy designed to defend our defence capability is being used to make us subsidise the destruction of that capability."
He urged the Ministry of Defence (MoD) to refuse to pay any redundancy money and tell BAE: "This is your decision, the outcome of your strategy. If you don't like it, I'll see you in court."
Mr Davis said the National Audit Office would investigate any redundancy deal, which he hoped would "stiffen the MoD's spine".
He said the plan to axe jobs was a "human and industrial tragedy" and "symptomatic of the decline in manufacturing in this country".
'Remain competitive'
Shadow defence minister Alison Seabeck said: "We are talking here about very skilled workers in the North West and Humberside who have so much to offer the company and UK PLC and yet they face an uncertain future."
Ms Seabeck asked for clarity on whether the 90 day consultation process had been properly managed an said she understood the "frustration and anger" towards BAE.
Hull North Labour MP Diana Johnson said ministers had a role to play in protecting the jobs at Brough, an area which she claimed was "suffering disproportionately in the economic downturn".
A BAE spokeswoman said: "Commercial negotiations between the company and the MoD on redundancy payments have begun and at this stage it is too soon to give any indication of the outcome.
"We announced potential job losses in September because of a reduced workload at a number of our sites.
"To remain competitive and have a long-term future, we need to reduce the overall costs of our businesses in line with this reduced workload.
"These job losses are regrettable but are required to make sure we have a cost-effective and efficient business. "