Shropshire and Worcestershire sports arenas get £3m grant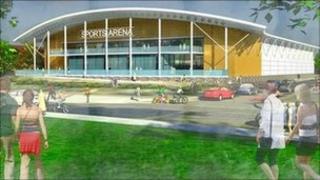 Two new community sports centres in Shropshire and Worcestershire have been given £3m of Sport England funding.
The Worcester Community Arena, to be built on the site of a derelict fruit market, has been given £1.5m.
A project building new sports facilities at Dawley near Telford has also been given a £1.5m grant.
Sport England's Jennie Price said: "It will improve lives in these communities for generations after the London 2012 Olympic and Paralympic games."
The University of Worcester is spending £15m building the Worcester Community Arena on a derelict site on the banks of the River Severn.
Those behind the arena said it would become a centre of excellence for disability sport, including wheelchair basketball, wheelchair fencing and blind football.
University vice-chancellor Professor David Green said: "We hope it will become home from home for many athletes with a mobility impairment."
It will also become the host the home games of the Worcester Wolves basketball side.
Dawley Learning Community is being built as part of Telford and Wrekin Council's plan to transform the borough's educational estate.
The Sport England money will be used to fund a new sports hall, a national standard BMX track and new sports pitches, to replace the existing Phoenix School.
The council said it wants to create a regional base for cycling, rugby league, table tennis and a county netball hub.
Councillor Arnold England said: "It will mean that we can create fabulous sporting facilities at the new site for use by both school pupils and the local community."