Three convicted over £3.5bn drug-cutting scam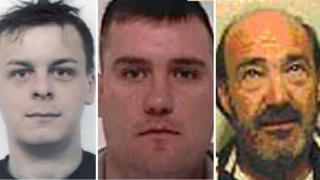 Three men have been convicted of leading a multibillion-pound drug cutting ring to produce huge amounts of substandard cocaine.
Jamie Dale, John Cawley and Barry Hartley were found guilty of three counts of conspiracy to supply after a two-month trial at Leeds Crown Court.
They imported more than 36 tonnes of cutting agent before selling powder on to dealers at about £1,000 a barrel.
The value of their scam was put at more than £3.5bn.
The Serious Organised Crime Agency (Soca) said this was a conservative estimate.
Dale, 32, of Claymere Avenue, Rochdale, Greater Manchester; Cawley, 31, of Forshaw Close, Fleetwood, Lancashire and Hartley, 63, of Cog Lane, Burnley, Lancashire, were caught after an undercover operation by officers who marked stocks of chemicals bought by the trio.
John Wright, who led the four-year police operation leading to their conviction said: "The scale of their operation was remarkable.
"It's fair to say that if someone has snorted cocaine since 2008, they have snorted some of Dale's product."
'Dummy front company'
Alun Milford, head of organised crime division at the CPS, said: "The three defendants were found guilty of offences of conspiring to supply Class A controlled drugs - cocaine and diamorphine - and a Class B drug, amphetamine.
"This was the first time such charges were applied to activities involving such large amounts of cutting agents.
"Jamie Dale bought the cutting agents using a dummy front company, assisted by John Cawley, while the third defendant Barry Hartley was involved in the delivery and onward supply of the chemicals to their contacts in the drugs world.
"All three men denied their involvement."
As a result of Operation Junko, more than 21 raids have been carried out across the UK including in Bristol Bournemouth, Rotherham and Edinburgh.