'Fascination with pictures' - Graham Satchell, Breakfast reporter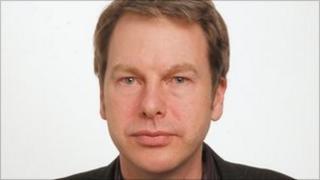 The morning is the best part of the day. The still. The first light. A sense of beginning.
Graham has always loved waking up early. Working for Breakfast since 2001 he has had the privilege of reporting at sunrise from Kabul, Baghdad, Lagos and of course towns and cities across the UK.
"Getting to know Britain has been a real pleasure of the job," says Graham. "Talking to ordinary people, telling their extraordinary stories is what gets me up in the morning."
Graham's first job was cleaning the floor of the Nissan car factory in Sunderland - overnight. An inauspicious start after an MA in English Renaissance Tragedy.
His first proper job was as a television journalist at the smallest TV station in the British Isles, Channel Television in Jersey.
Flitting from the thoughtful to the funny
He joined the BBC in the mid 1990s and has worked in local radio, regional TV, the News channel and briefly as a health correspondent for BBC News.
"It's useful to have some specialist knowledge, but at heart I'm a butterfly. I enjoy flitting from the thoughtful to the funny to the tragic."
Graham has always enjoyed watching TV. "I have never felt watching television to be an indolent, mindless experience. I have generally found it to be uplifting and enervating. Today I have an endless fascination with pictures, filming and editing."
Graham lives in London and has three sons.