Mixed messages on economy as Osborne plans Statement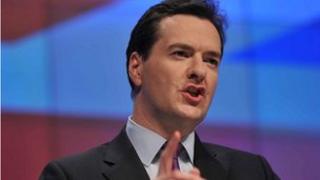 Two simple, but apparently contradictory, facts convey some sense of the mixed messages coming out of the Midlands as George Osborne prepares to deliver his Autumn Statement next Tuesday, 29 November 2011.
Unemployment in the West Midlands is running significantly higher than the UK average.
Job creation in the region's private sector is also well above the UK average.
Last week, the Office for National Statistics reported 234,000 people were unemployed in the West Midlands in October.
This figure is up 10,000 on the previous month, to 8.9% of the working population.
This compares with the UK average of 8.3%.
Fifty three thousand 18-24 year olds are claiming Job Seekers' Allowance, that's 8.6% of people in this age range.
This is despite the growth in employment in the region's private sector which also exceeds the national average.
Among the biggest headline-grabbers are:
1,000 new jobs at Jaguar Land Rover at Solihull and Castle Bromwich;
900 jobs at Amazon's new distribution centre at Rugeley in Staffordshire;
200 jobs at Monarch at Birmingham Airport;
60 jobs at the Perkins Engine centre in Stafford.
'Vast' reserves
The problem is, of course, that this growth in private sector employment is nowhere near enough to offset the loss of public sector jobs.
Labour say the government's failure to close this gap exposes the failure of George Osborne's original strategy for economic growth and recovery under a Deficit Reduction Programme which the opposition famously maintain goes 'too far and too fast'.
There's been no shortage of advice for the Chancellor from Midlands business leaders about what they say he needs to do to encourage them to invest in new jobs and new opportunities.
One after another, they've written to him urging him to cut corporation and capital gains taxes, to reduce employers' National Insurance contributions and to scrap the top 50p tax rate.
But there is just one further, apparently contradictory or mixed message...
Far from being strapped for cash, many Midlands businesses are sitting on large reserves of money.
One of the region's top bankers said recently he had never before seen such vast sums stashed away.
"We know because we see the accounts," he told me.
But with business confidence still apparently rock bottom, company bosses remain reluctant to release the investment required to create those new opportunities and new jobs.
Political significance
The Midlands' mixed messages reveal just some of the pressures bearing down on the Chancellor as he prepares for Tuesday.
This Autumn Statement seems to grow in both economic importance and political significance with every passing day.
To assess the prospects I will be joined in the Politics Show studio this week by:
Karen Bradley, Conservative MP for Staffordshire Moorlands and a member of the Work and Pensions Select Committee;
Ian Austin, Labour MP for Dudley North and a former Minister for the West Midlands;
Lorely Burt, the Liberal Democrat MP for Solihull who chairs her party in Parliament.
And I hope you will join us too, from 12.00 on BBC One this Sunday, 28 November 2011.
Follow me on Twitter @PatrickBurnsBBC