Farmers count cost of drought in parts of England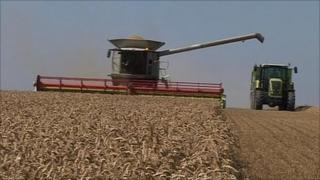 Parts of England are still in the grip of a drought, which has cost some farmers thousands of pounds and led to restrictions on water use.
Jonathan Brant, 52, has ploughed the fields of the Lincolnshire farm where he grew up, for more than 30 years.
But this year, an exceptionally dry spring hit his barley and wheat crops and he lost between £15,000 and £20,000 - his biggest loss yet.
Mr Brant has a herd of suckler cows and also produces oil seed rape, milling wheat and malting barley in the picturesque Normanby le Wold.
But after a frosty winter his land was hit by "strong, dry winds which sucked out the moisture".
Following this, he said only about 4 to 6mm of rain fell between the end of March and June, which led to the failure of half the barley planted on 30 hectares.
The lack of moisture in the land led to nitrogen levels in the remaining barley being too high for it to be used to produce beer and it was instead sold for animal feed, for about £50 less a tonne.
'Natural variability'
The farmer's winter wheat yield was also down by about 25%. He said it was not possible to irrigate his land, which was on a hill and on clay.
He has not had any compensation for the financial loss but accepts it is part of farming, which is "still the best job there is."
"It's for God and the weather to decide," he said. "You have to accept it and just get on with it and start again with the next year's crops."
He added: "There are people who have been far worse affected. Some people haven't managed to grow anything.. particularly further down in the eastern counties."
He said the drought had also caused a straw shortage which was being felt by livestock farmers.
For some areas, such as the Midlands, the year up to October was the driest 12 months since records began in 1910.
In June, areas of East Anglia were declared to be in drought, while parts of the Midlands, South West and South East were said to be in a "near drought" state.
The Environment Agency (EA) said Lincolnshire, Cambridgeshire and west Norfolk and parts of Bedfordshire and Northamptonshire were still in drought in November.
A spokeswoman for the agency said groundwater, reservoir and river levels were all "very low" in these areas.
Other areas are also suffering and EA staff recently rescued fish from the River Kennet in Wiltshire and River Pang in Berkshire because of low water levels.
Some sugar beet and potato farmers in Cambridgeshire struggled to harvest their crops because it was difficult for harvesters to work in such dry conditions.
James Wilmot, from Swaffham Bulbeck, said: "We need the rain desperately to get the crops growing that we've just planted."
Anglian Water applied for a winter drought permit last week to allow it to take out extra water from the River Nene to top up its Pitsford Water reservoir, which is 56% full.
The firm said supplies had been hit by the driest spring in over 80 years, while September rainfall had been about 49% lower than average.
'Less certainty'
The Met Office said while there had been "extremely dry conditions in some places" others, such as Northern Ireland, had seen heavy rain and flooding.
A spokesman said it simply demonstrated "natural variability in climate" from month to month and between different places.
The EA has placed restrictions on farmers and other businesses who abstract water from springs and rivers. It said about 200 licence holders in central and eastern England have been told they cannot abstract water because of low levels.
NFU water policy adviser Jenny Bashford has warned that if autumn and winter saw below average rainfall then the effect on agriculture could be "significant" next year.
The NFU said farmers were working to increase their water efficiency, but called for government measures, such as over the regulation of abstraction licences.
The Department for Environment, Food and Rural Affairs said it was working with all sectors to plan ahead to meet challenges of a continued drought.
"Many British farmers are facing difficulties due to the dry conditions and it is important that they can find ways to become more resilient in the long term," a spokesman said.
"While droughts are not new, we may face a future with less rainfall and less certainty about when that rain will fall. Next month we will set out our plans to ensure there are secure water resources in the future."