Rochdale revamp 'not a pipe dream'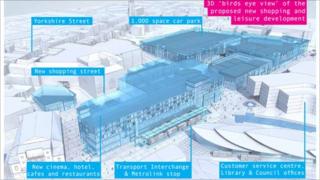 Rochdale boomed with the cotton trade and once attracted tens of thousands of workers to its mills and factories. But after years of decline and recession, it is hoped a series of multi-million pound projects will renew the fortunes of the town centre and borough.
Rochdale taxi driver Steve Irving, 57, is among the residents who say the town needs an urgent boost.
"Last year in the run-up to Christmas a lot of shops closed down. We used to get a lot of people travelling in on the train to work in shops, but we get very, very few now," he said.
But Rochdale Development Agency (RDA) and Rochdale Metropolitan Borough Council insist that their plans to regenerate the town centre and wider area are well under way.
RDA chief executive John Hudson said: "We want to rejuvenate the town and bolster activity in the town centre. And the construction and development is taking place. It's not just a pipe dream - things are actually taking place."
In the town centre, construction work has started on new council offices, a library and a council customer service centre which are set to open at the end of 2012.
The RDA, which seeks to attract jobs and investment to the area working with public and private partnerships, has also been working to secure land to create a "new retail heart" in the eastern part of the town centre.
Mr Hudson, who has headed the RDA since it was set up 18 years ago, said it had secured about 90% of the land for the project.
He said it was important for the health of the borough that it had a good town centre.
"We're not complacent. We know 7,000 people here are looking for work and we know levels of youth unemployment are high. But there are still positive things happening," he said.
Mr Hudson said the agency and its partners knew there were "significant problems" and they themselves faced funding hurdles, but were confident the developments would go ahead.
He said they needed the backing and belief of the community.
'Keep positive'
"Rochdale is a much bigger project. We understand that there are a lot of difficulties. No-one can argue that it is easy in the current economic climate," he said.
He pointed to Middleton town centre in the borough which had been "absolutely transformed", by a £13m arena providing art, leisure and entertainment facilities.
He added that a "huge start" had been made on Kingsway Business Park, a 420-acre site about a mile from the town centre.
The first 10 years of the project were spent securing land and funding but now the development had attracted key businesses, including JD Sports and Asda.
"People were saying it's never going to happen, but now it's producing jobs and funding for the borough," Mr Hudson said.
"We will get there with Rochdale town centre too but in the process of doing so we need to keep people positive."
Labour-led Rochdale Council said the business park will support more than 7,000 jobs which will be phased in over the next 10 to 15 years.
The government's Regional Growth Fund (RGF) has been an important source of funding for the town. Six companies, including two successful manufacturing firms, which are planning to locate on Kingsway have applied for RGF grants.
And the Metrolink tram line in Rochdale is also under construction and will connect the town centre with the railway station and eventually to Manchester and other areas, including Kingsway.
Mr Hudson said he was optimistic most of developments would be completed within five to six years.
However, Rochdale traders have criticised the pace of regeneration and said more immediate improvements were needed.
The recession has had an impact on the regeneration, as in many other areas across the country such as central Middlesbrough, Swindon and Stoke-on-Trent.
Mr Hudson accepted the recession had had an impact, but added they had continued to work on schemes during that time.
He added the borough had seen "exceptionally high investment" and had been helped by having manufacturing firms which were strong exporters, such as Holyroyd Precision and vacuum bagging company Tygavac.
Rochdale is still waiting to hear whether delayed plans for a new £11.5m transport hub will receive government funding. The decision is expected next month.
In the short-term, Rochdale Council said it aimed to attract more people into the town centre through free weekend parking and organising events and attractions such as a Christmas market and festive lights.
Rochdale's regeneration includes:
The creation of the largest public square in England in the town centre
Refurbishing the Co-operative Pioneers Museum to celebrate the town's heritage as the birthplace of the Co-operative Movement. Rochdale was declared the world capital of co-operatives at a meeting in Mexico last week.
Plans to re-opening the River Roch to reveal historical bridges in the town centre
A new £26m sixth form college has opened
New council offices are under construction which will see staff relocated from more than 30 buildings in a bid to save about £1m a year
A £10.8m leisure development, including a 25-metre pool, is to open next summer