Work of Zandra Rhodes to be archived by UCA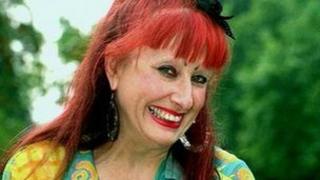 The work of fashion designer Zandra Rhodes is to be recorded in a digital archive by the university where she once studied.
The University for the Creative Arts (UCA) said it hoped the archive would inspire a new generation of designers.
Ms Rhodes studied at Medway College of Art - one of the Kent and Surrey colleges that formed UCA in 2008.
She said "I am thrilled that this project is happening and students will be able to appreciate my work."
Landmark moments
During her five decade career, Ms Rhodes' clients have included Freddie Mercury, Kylie Minogue and Sarah Jessica Parker.
Professor Kerstin Mey, UCA's director of research, said the archive would capture some of the landmark moments in the evolution of British fashion.
The University for the Creative Arts has campuses at Canterbury, Epsom, Farnham, Maidstone and Rochester.
The project is funded by a £110,000 grant from the education and research body, the Joint Information Systems Committee.