Red Arrows fans pays tribute to pilot killed at base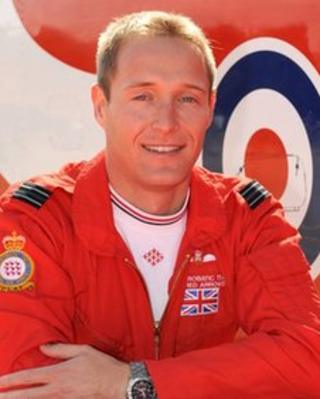 Red Arrows fans have paid tribute to a pilot killed when he was ejected from his aircraft.
Flt Lt Sean Cunningham was ejected from a Hawk T1 while it was still on the ground at RAF Scampton in Lincolnshire on 8 November.
His death came less than three months after that of Flt Lt Jon Egging in a crash near Bournemouth Airport.
Enthusiasts gathered near RAF Waddington at the start of a convoy to RAF Scampton to lay flowers.
They also signed a book of condolence at the base.
'Heartbroken and devastated'
Red Arrows enthusiast Maureen Hanson, 42, said the gathering had been organised so people could pay their respects to both pilots, and show their support for the team.
Miss Hanson said she was "heartbroken and so, so devastated" at the deaths of the two pilots and said the team should not be disbanded.
"It is pure dedication, we're all Red Arrows fans and we all love them dearly.
"We just want them to know that we're all behind them 100%. We love them so much."
Miss Hanson, who said she has a room at home devoted to the Red Arrows, fought back tears as she read from a prepared statement.
"I would like to send my deepest condolences to the family of Sean Cunningham for the tragic loss of their beloved son and friend," she said.
"Of course we cannot forget Jon Egging who also lost his life in August.
"Our deepest sympathies and thoughts go to Emma and Jon's family also.
"This is a time for us all to get together as friends, family and fans of the Red Arrows to show the families and the team mates and everybody at RAF Scampton how much we love them.
"They show so much skill and dedication to the public in what they do.
The Military Aviation Authority is carrying out an independent inquiry to determine the cause of the accident which claimed the life of Flt Lt Cunningham.