Attorney General seeks to sue Sky over Chandler kidnap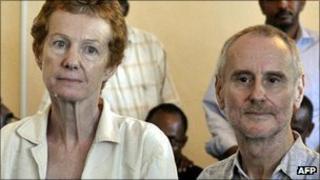 The Attorney General is seeking leave to bring contempt proceedings against Sky News over the kidnap of British couple Paul and Rachel Chandler.
Sky is accused of breaching an injunction prohibiting the publication of details of the welfare of the couple, kidnapped by Somali pirates.
They were kept captive for 13 months before being freed in November 2010.
The media were prevented by injunction from publishing details of the couple's "health and welfare" prior to release.
Solicitors representing the Chandlers, who lived in Tunbridge Wells, Kent, at the time of their kidnap, obtained the injunction because of concerns their lives were being endangered by the media reporting of their capture.
Sky News is alleged to have breached the injunction on the day of their release and before they left Somalia.
That has led the Attorney General, Dominic Grieve QC, to seek permission at the High Court on Monday to bring contempt proceedings.
Mr Grieve has brought several contempt cases against the media this year, including that in respect of coverage of the arrest of Christopher Jefferies, the landlord of the murdered landscape architect Jo Yeates.
The Daily Mirror was fined £50,000 and the Sun £18,000 for their coverage of Mr Jefferies' arrest. He was later cleared of any involvement in the murder of Miss Yeates.