North East parties slug it out in MP boundary battle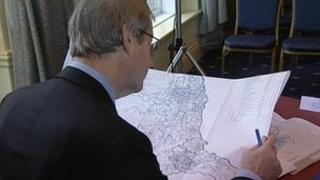 They might have passed you by, but two gatherings in a council chamber and a hotel this week might just help to decide who your next MP will be.
They were hearings organised by the Boundary Commission into plans to redraw the political map in England.
The government wants to reduce the size of the House of Commons, and in the North East and Cumbria that means four MPs have to go.
But the Commission also has to make sure all constituencies contain roughly the same number of voters, and that means every seat in the region will have to change.
Genuine concerns
The proposed new map of constituencies was released in September, but this week saw the North East's politicians and voters get a chance to have their say.
And so a smattering of both gathered at Boundary Commission hearings in Newcastle Civic Centre and a hotel next to Durham-Tees Valley Airport.
There were genuine concerns aired by members of the community about the current plans.
The proposed new Consett and Barnard Castle seat came in for a particular kicking at the hearing in Newcastle because it covers a huge area of Northumberland and Durham.
People living in Haltwhistle and South Tynedale in Northumberland said it was unacceptable to pair them with communities that are a 60 mile drive away in a different county.
Villagers from Rothbury made it plain they didn't like the idea of being in a Hexham rather than a Berwick seat.
There were objections from Ashington in Northumberland about plans to split the town between two seats.
And one resident of Middleton St George turned up at Durham-Tees Valley Airport to ask for her community to be put in Darlington rather than Sedgefield.
Political chess game
But it's fair to say the politically motivated contributors at the hearings outnumbered the public.
That's probably not surprising. For MPs the changes could affect whether they still have a constituency, and whether it's winnable.
And for the political parties, every seat could make a difference between government and opposition.
So the hearings were very much a political chess game for them - sacrificing some areas, for gains in others.
Labour, Lib Dems and Conservatives all gave submissions accepting some proposals and rejecting others.
To be fair, much of their submissions were about geography and making sure constituencies made logical sense.
All three parties agreed that the proposed Consett and Barnard Castle seat made no sense and objected to it.
With the odd nuance, all three suggested retaining a North West Durham seat for Consett, while putting Haltwhistle back in with Hexham, and retaining Barnard Castle in the Bishop Auckland constituency.
But then there wasn't that much benefit for any of the parties in the changes planned in those areas.
Critical battleground
Effectively both the Labour and Tory proposals accepted Hexham would always be a likely Conservative seat, while the two Durham constituencies would remain Labour strongholds.
But there was no such agreement over the really critical battleground in the boundary changes - the proposals for the current Conservative-held Stockton South seat.
The Boundary Commission wants to dismember it and put large parts of it in a new Sedgefield and Yarm constituency.
That could be a disaster for the current Stockton South Conservative MP James Wharton.
Although it would be more competitive than the current Sedgefield seat, Mr Wharton's supporters would probably be outnumbered by Labour voters.
So the Conservatives want to take Yarm and other Tory voting communities out of Sedgefield and put them in an adjusted Stockton South seat.
They argue it would make more sense for voters, but unsurprisingly perhaps it would also produce a seat even more winnable than the current constituency.
Labour also wants changes, but you won't be surprised to know their plans would make life tougher for the Tories.
They want Yarm to stay in a Sedgefield seat, but add Labour voting Billingham to it. They'd then split off other strong Conservative areas into a Stockton seat.
Again, they argued it made geographic sense but it would also see Tory supporters swamped in both areas, ending the party's chances permanently in Teesside.
But the boundary battles elsewhere also have complications for Labour.
In Gateshead, much media focus was on a proposal which would see the town's iconic Angel of the North move into the Washington constituency.
But for Labour there is also the complication that two MPs will probably be competing for one seat, and so the local council has tabled proposals which seek to make sure the town retains two constituencies.
Their solution though would put Jarrow in with South Shields, leaving David Miliband and Stephen Hepburn potentially fighting for selection there.
And then in Newcastle and North Tyneside, the Labour MPs have also come up with their own plan.
They believe the current Boundary Commission proposals are flawed geographically.
But conveniently, the plan they propose makes it far easier for the existing MPs to slot into safe successor seats.
That way it would prevent a potential MPs' bun fight over which seat they wanted.
Political fortunes
Of course, none of the parties in the hearings openly admitted that their changes helped their internal or external aims.
But then they have to be careful.
The Boundary Commission says the fates and fortunes of political parties and individual MPs will play no part in their deliberations.
Instead the commissioners will only consider changes that could improve the cohesion of the new constituencies.
They will have to weed out the proposals that do that from those that are merely designed for political gain.
That process begins next month, but we won't see the Commission's revised proposals until next autumn.
There will be some limited opportunity for adjustments after that, but realistically this was the final chance for communities and parties to push for substantial changes.
They now face an anxious wait to see whether they made their case or not.