Sussex and Surrey hospital thefts CCTV released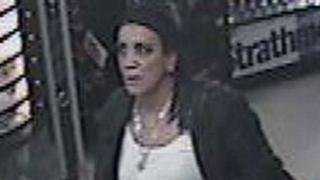 CCTV images of a woman believed to have stolen keys from hospital patients before carrying out burglaries on their empty homes have been released.
Police believe the woman may be behind the thefts and burglaries in Sussex, Surrey and London.
Det Con Paul Voigt, from Sussex Police, has appealed for information.
He said: "This is a despicable series of thefts and burglaries, following a trail which has obviously been carefully planned."
On 7 November, police said the home of an elderly woman in Albery Close, Horsham, was burgled.
Purse stolen
Police said a woman matching the suspect's description was seen leaving the property.
Earlier, the homeowner's bag had been stolen while she was visiting St George's Hospital in south London.
Later that afternoon, at 16:25 GMT, a woman had her bag snatched while visiting Crawley Hospital.
Police believe the thief then went to the victim's home in Burwash Road, Furnace Green, and used the stolen keys to enter the property.
A woman matching the suspect's description was also spotted leaving East Surrey Hospital in Redhill at about 18:00 GMT after a 98-year-old woman had had her purse stolen.