Man hurt in Shiplake train crash leaves hospital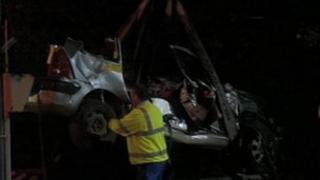 A 58-year-old man has been released from hospital after being injured when his car collided with a train on a level crossing in Oxfordshire.
The Peugeot estate was hit by the First Great Western train at Shiplake, between Henley-on-Thames, and Reading, Berkshire, on Thursday night.
None of the passengers or the driver of the Henley to Twyford train were hurt.
There have been ten incidents at Shiplake in the past year and this was the second this month.
Warning lights
On 7 November, a train had to make an emergency stop to avoid hitting a car at the crossing.
Officers from the British Transport Police were in Shiplake on Thursday prior to the crash, handing out leaflets to highlight the dangers of level crossings.
The county councillor for Henley and Shiplake, Dr Peter Skolar, who lives in the village, said Network Rail had recently installed brighter red warning lights at the crossing, and drivers could not miss them.
Motorists had complained they were unable to see the original lights in bright sunlight.
Dr Skolar said: "I'll be bringing this to the parish council and I'm sure they will be going back to Network Rail and saying 'we've had yet another accident how much longer are we going to have to wait until you put barriers up?'"