Bristol, Darwen and Glasgow TV Licensing staff walk out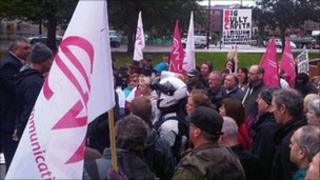 Hundreds of TV Licensing workers went out on strike for a third time earlier in a dispute between the Communication Workers Union (CWU) and Capita.
CWU said the company's 2.6% to 2.7% pay offer was "far short" of inflation.
Office workers in Bristol, Darwen and Glasgow walked out at 07:30 and 10:30 GMT.
Capita said it was disappointed at the ongoing industrial action and maintained its pay offer was fair.