Over 23,000 fish added to local rivers and stillwaters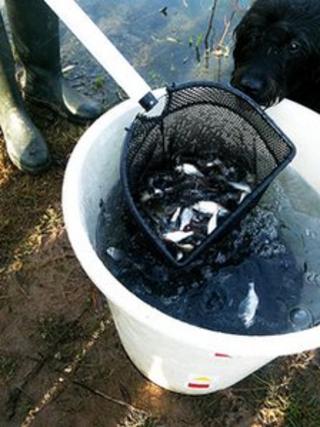 Over 23,000 fish have been placed into rivers and ponds in the North East in an attempt to encourage more people to take up fishing.
The fish have been put in the Rivers Tees, Skerne and Wear, and stillwaters in Durham, Newcastle and Teesside.
The Environment Agency chose the waters due to suffering poor water quality and habitat degradation in the past.
A spokesperson said: "Restoration and the creation of new fisheries is a very important aspect to our work."
The fish, including barbel, dace, rudd and tench, all come from the Environment Agency's fish farm at Calverton, in Nottinghamshire, where between 350,000 and 500,000 fish are produced to stock rivers across the country each year.
The fish have been placed in the Clow Beck at Darlington, Redhall Community Pond at Darlington, the River Wear in Durham City, QE2 Pond at Ashington, Mount Pleasant Lake and Killingworth Lake near Newcastle.