Ex-AstraZeneca staff set up own firms in Nottingham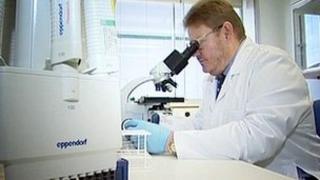 Some scientists who would have lost their jobs at a large pharmaceutical firm in Leicestershire have set up their own biotech companies.
Dr Richard Weaver, one of the 35 ex-AstraZeneca employees who have launched their own business, said plans to axe his job forced him to make the move.
He set up his company by renting a laboratory at BioCity Nottingham Ltd.
AstraZeneca had said its Loughborough plant would close by the end of 2011, resulting in the loss of 1,200 jobs.
The drug company, which develops treatments for lung and breathing problems, said research facility closures were part of a global restructuring, and planned to shed about 8,000 posts.
'An opportunity'
Scientist Dr Weaver, owner of Xenogesis, said: "Where there's a threat, there's also an opportunity.
"I wanted to do something like this and felt it was a springboard to actually set this up."
About six ex-AstraZeneca scientists have based their own biotech businesses at the science centre in Nottingham.
BioCity, which opened in September 2003, develops and operates bioscience and healthcare-related incubation and innovation facilities.
Dr Glen Crocker, chief executive of the research facility, said: "Although these are small companies at the moment, if they each grow to the scale of some of the other companies that have started up here, then we could put back half of those jobs in a few years time."