Major opens Gatwick North Terminal extension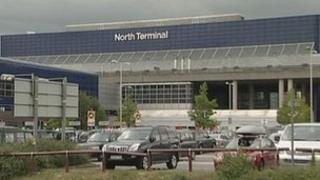 A £73m extension to Gatwick airport's North Terminal has been officially opened by former Conservative Prime Minister Sir John Major.
The extension to the UK's second-largest airport is part of Gatwick's plan to accommodate 40 million passengers a year by 2020.
It has 18 new check-in desks, taking the total to 144, along with four new baggage reclaim belts.
The three-acre extension is nearly the size of Lord's Cricket Ground.
"Passengers flying out of the North Terminal used to be greeted with a dated 80s feel," said chief executive Stewart Wingate.
"The layout and design of the upgraded forecourt, interchange facilities and the expanded terminal building provide a much more positive first impression.
"We want passengers to spend as little time in queues or waiting for luggage as possible."
Gatwick's owners, the US-based investment fund Global Infrastructure Partners (GIP) is carrying out a three-month consultation on its masterplan for the future, which replaces one put forward by the airport's previous owners, BAA, in 2006.
The company wants it to become "London's airport of choice" and believes it can accommodate additional flights without the need for a second runway.
The government last year ruled out any new runways at Heathrow, Gatwick or Stansted.
"For visitors to Britain, their first impressions of our country are shaped by what they see and experience when they land," said Sir John.
"That is why the significant investment to improve arrivals infrastructure is so important."