Faversham's '£20m Magna Carta' to be discussed by council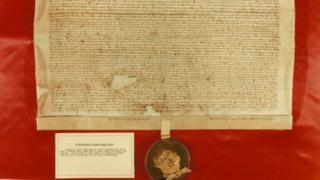 The future of a 700-year-old edition of the Magna Carta thought to be worth up to £20m is being reviewed by its Kent council owners.
Councillors at Faversham Town Council are meeting on Monday to discuss how to proceed after the document's potential value came to light.
The document has been in Faversham since 1300.
Medieval history professor, Nicholas Vincent, believes the more than 700-year-old document could be worth £20m.
Mr Vincent said the document was an original Magna Carta and the last reissue of King Edward I's seal.
"It has been in Faversham since 1300 and has some interesting aspects, not least the attachment to one place since the time of its issue," he said.
Peace treaty
The charter was awarded to the barons of Faversham in 1300 by King Edward I.
The original Magna Carta, signed in 1215 in Runnymede Meadow, Surrey, was a peace treaty between King John and the barons who were in revolt against him.
It sets out the principles of freedom under law and has provided the basis for legal and political systems around the world.
Susan Brockman, Faversham's town clerk who looks after the document, said it was in very good condition.
It is kept in a fire-proof cabinet and is insured with other documents for nearly £200,000.
Ms Brockman said it would be too expensive for the town council to insure it for £20m.
She said one option to be discussed on Monday was moving the Magna Carta to a more secure location such as the county's archive but she said she would not like to see it leave Faversham.
"Faversham has a long and chequered history going back to the 1200s and beyond.
"I think it would be great pity for this document, which is of such value historically, to be sold."
The Magna Carta is one of a number of charters awarded to Faversham by kings. The oldest was handed over in 1292.