Are Conservative dissidents sharpening their knives?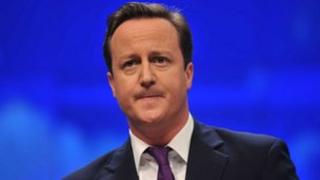 Are the Tory dissidents getting careless or sharpening their knives?
Here are two classic examples of in-fighting in a party that used to pride itself on discipline and unity.
Example one: Patrick Mercer's alleged remarks in which he described David Cameron as "a despicable creature without any redeeming features".
Example two: Euro MP Roger Helmer's broadside against the "achingly trendy" author-turned-MP for Corby, Louise Mensch.
There's not much love lost between 'Team Cameron' and the MP for Newark.
Patrick Mercer was never happy over the "summary justice" he received from David Cameron in 2007.
He was dropped as the Conservatives' homeland security spokesman in what Team Cameron took as unacceptable remarks about attitudes to race in the Army.
Patrick Mercer has always felt he was unfairly treated by the Conservative leader.
Now Mr Mercer has been reported to have said highly critical remarks about the prime minister, which won't have pleased Downing Street.
He was reported in some of the Sunday newspapers to have called Mr Cameron "the worst politician in British history since William Gladstone".
He also hinted at a leadership challenge next year.
One of the lesser-known historical details about the Liberal Party's 'Grand Old Man' is that Gladstone was a former MP for Newark.
Mr Mercer, the Nottinghamshire constituency's current MP, has declined to comment further on his reported criticism of the prime minister.
Ideal 'Cameroons'
East Midlands Tory Euro MP, Roger Helmer, has never been one to pull his political punches.
In his blog, he's had a real swipe at one of Team Cameron's rising stars, Corby MP Louise Mensch.
"She is the ideal Cameroon - achingly trendy, utterly with-it, resolutely on-message. Not for her the revolt over the EU referendum, despite previous party promises," he writes.
He goes further: "The trouble is, 'achingly trendy' can so easily tip over into self-parody, and I fear that for Louise, that's a real threat."
He particularly criticises her for not recalling whether she had taken drugs when she was younger.
His blog continues: "Back in 2010, before the general election, I went to Corby several times to help in Louise's campaign, and had I been an elector in Corby, I should certainly have voted for her.
"But today, I might be wondering why I had done so."
Louise Mensch is an avid tweeter, but as yet she's not responded to the Helmer attack.
Both the Corby MP and Team Cameron may remain quite relaxed about it all.
After all, it's not the first time Roger Helmer has fired one of his 'blasts' at the Conservative modernisers... and he's standing down anyway as a Euro MP at Christmas.
Coalition government was always going to have its challenges.
But his comments - and those of Patrick Mercer - hint at some of the political rifts within the Conservative Party that may become increasingly difficult to paper over.