Methley crash pilot Chris Penistone was 'a thrill-seeker'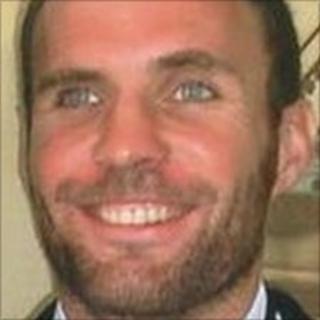 A pilot who died when his plane crashed during an aerobatic display in West Yorkshire "led his life at 150mph", his mother has told an inquest.
Chris Penistone, 31, was taking part in The Methley Bridge Boatyard Festival when the crash happened in June 2010.
A jury at the Leeds inquest into his death watched a video showing his aircraft plunge to the ground.
Mr Penistone's mother, Ann, said although her son was a "thrill-seeker" safety was paramount to him.
Mr Penistone, of Knottingley, West Yorkshire, was a pilot with the commercial airline Jet2, based at Leeds-Bradford airport.
"He did everything with an element of danger and that's why he enjoyed aerobatics," Mrs Penistone said.
"He knew the risk he was taking.
'Trusted him 100%'
"If it was [flying at] 300ft that was allowable, he would fly at 300ft. He wouldn't go below that but he'd push the envelope every time.
"He led his life at 150mph, that's how he did his life."
Mr Penistone's former girlfriend Rachel Dunn, an air hostess with Jet2, said she had flown with him on commercial aeroplanes and in light aircraft and always felt safe.
She said he could sometimes be an "exhibitionist" and a "daredevil" and loved the thrill of aerobatics but that he took "every precaution possible" when he flew.
She said: "He's always been so serious about flying, so passionate about aviation. I trusted him 100% up there. He just loved to fly and I always felt safe with him."
When asked by deputy West Yorkshire coroner Melanie Williamson if Mr Penistone "lived on the edge", Miss Dunn said: "He just loved life, he loved the excitement, he did everything he could to enjoy life, he was just passionate about life."
A number of witnesses to the crash on June 19 2010 said they were concerned at how low the plane seemed to be flying.
They described the aircraft climbing vertically before going into a flat spin from which it seemed to recover before crashing.
The inquest continues.