McDonald's departure from Rochdale 'a bad sign'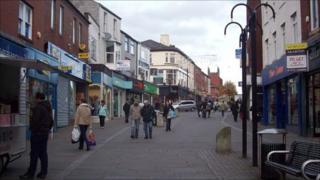 With unemployment in the UK at a 17-year high and many shops and businesses struggling, town centres such as Rochdale, Greater Manchester, have become a battleground between deprivation and plans for regeneration.
When McDonald's announced it was leaving Rochdale town centre, some residents remarked it was the "final nail in the coffin" for a once-booming industrial town that has seen years of hardship and store closures.
"It's a bad sign because McDonald's is everywhere in the world," says Lorraine Mosoph, who works on her daughter's mobile food stall.
Rochdale is the 10th most deprived district in England, according to the government's 2010 Indices of Deprivation, which looks at factors such as employment, income, health and housing.
But the borough is also the subject of multimillion-pound regeneration projects which aim to attract jobs, shops and investment.
'Budget-orientated'
Steve Irving, 57, a taxi driver in the town for 25 years, believes it "lost its identity" after the closure of the cotton mills during the past 40 years and has been hit hard by the recession.
"We knew what large shops were in trouble nationally because they seemed to shut first in Rochdale," he said.
Despite being Rochdale's main shopping street, Yorkshire Street has eight charity shops within a short distance, along with pawn shops that also dominate.
McDonald's is also in the street, where there was the usual lunchtime rush. But, a sign on the door announced its imminent departure.
"We would like to thank our guests for their custom over the last 28 years," it said redirecting customers to its two remaining sites in Rochdale, which are in retail parks.
The chain has said it made the decision "after seeing trading patterns in the town centre change".
Some parts of the town, including the Exchange Shopping Centre, were bustling. But Ryan Horsfield, 34, who works at The Carpet Gallery, said there was little to entice people in.
"It's very budget-orientated," he said. "I think the council was quite blinkered allowing so many pound shops and charity shops in the town centre... of course there must be a market for them - people have less and less money, but there are more and more of these stores and you need a balance."
Mr Horsfield believes it has lost out to neighbouring towns, such as Bury, which gained The Rock shopping centre last year.
However, Rochdale town centre is itself undergoing a £250m revamp. Although like much regeneration across the country, some plans have been delayed by the recession.
'No civic pride'
A building site outside Rochdale's railway station site greets visitors to the town as work takes place for the arrival of the Metrolink next year. The tram link will eventually connect the town centre to Oldham, Manchester and other places along the route.
Dave Robinson, 69, and his friend looked through fencing around the site, discussing the development.
Mr Robinson, who worked in nursing before he retired, said: "[The town's] been going downhill for a long time - about 30 years.
"I don't think anyone can know why, it isn't just the economic climate.
"Hopefully, it will improve once all this is up and running.
"There used to be a roundabout in this spot - it was really splendid with lots of flowers. There doesn't seem to be any civic pride these days. It's just disappeared over the years."
Twenty-four-year-old Simon McFarland, who also works in The Carpet Gallery, said the town's main problem was its high unemployment.
The town has 7,741 job seekers, 5.9% of its population, compared with 3,514 four years ago.
Mr McFarland said a lot of people came into the shop asking for work.
"A lot of young people here go to college or have children to get the benefits. I'm all up for them getting benefits, but the numbers do seem to have gone up over the years," he said.
"It seems to be the only two options for young people - there's no trade anymore and even other options just don't seem to be available anymore."
He said he had been hearing about plans for regenerating the town "since forever" and was unconvinced it would go ahead.
"We've got a lot of nice old buildings, the town hall is really impressive," he said.
"[Rochdale's] got a lot of history, but at the moment it's just terrible."
Lorraine Mosoph and her daughter Lisa said their food stall was "ticking over" but they had had to cut prices.
Lorraine added there was not much for young people to do, and suggested a lower budget store such as Primark would be a suitable shop.
Rochdale Council said the town's charity shops supported very good work in the community and were filling units which would otherwise be empty.
The Labour-run council added it unveiled a "bold new vision" for the town two years ago and construction work was well under way.