Commodore Clipper ferry fire 20-hour wait criticised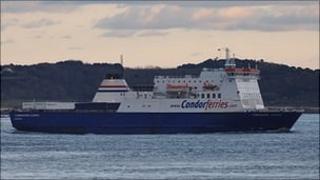 Poor onshore co-ordination meant passengers had to wait up to 20 hours before getting off a ferry after a fire broke out, an accident report has said.
The Commodore Clipper was close to Portsmouth harbour when the fire started on the main vehicle deck on a crossing from Jersey in June last year.
Due to poor access to the fire, freight lorries were removed before passengers.
Port authorities and the Condor Ferries have made changes to prevent a similar occurrence, the report added.
An investigation found the blaze originated in a refrigerated trailer unit, powered from the ship's electrical supply.
The crew contained the fire but were unable to extinguish the flames.
'No responsibility'
The report by the Marine Accident Investigation Branch (MAIB) said berthing at Portsmouth was "significantly delayed through ineffective co-ordination between shore agencies and because of equipment defects".
"Once alongside, the high density of cargo and constraints in the design of the vessel limited access to both fight the fire and to disembark the passengers.
"As a consequence, freight trailers had to be towed off the vessel before the fire could be extinguished."
The MAIB said that no single person or organisation had responsibility for the whole incident.
Organisations involved included the Maritime and Coastguard Agency (MCA), Solent Coastguard and various Portsmouth harbour authorities.
The report went on: "All shared a common aim, but each had a different perspective on how this should be achieved and what the relative priorities were.
"There were conflicting risks that needed to be balanced, and each organisation relied on the others for advice and resources."
The MAIB said action taken following the incident should in future "reduce the likelihood of a similar accident recurring, and improve their ability to respond to future emergencies".
The report also added that the MCA had undertaken to implement a number of recommendations resulting from an internal review of its response to the incident.