Immigration minister insists borders strengthened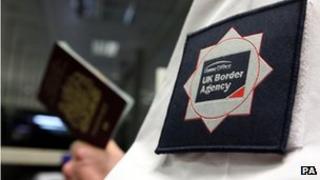 The row over who knew what about the relaxing of immigration checks doesn't seem to be going away.
The government has confirmed that more than 10 million people entered the UK in August when a pilot scheme - introduced by the home secretary - was operating.
The scheme to reduce passport checks on some citizens from EU countries was trialled at 28 ports and airports including Gatwick, Newhaven and Calais - where passport checks are undertaken for passengers travelling to Dover.
The home secretary was called to the House of Commons to answer an urgent question on border controls. But as she was busy elsewhere the Immigration Minister Damian Green had to take her place.
The Shadow Home Secretary Yvette Cooper asked him about passengers on private flights being waved through border and customs checks.
But Mr Green told MPs that all high-risk flights were identified and subject to checks under a new strategy.
He insisted border controls have been strengthened under this government.
Stark contradiction
At the same time the former senior civil servant Brodie Clark, who resigned over the row, was giving evidence to a committee of MPs.
His evidence starkly contradicted that of the home secretary and he denied relaxing passport checks beyond the limits of the pilot scheme.
He's not the only civil service casualty. Carole Upshall, the director of the Border Force South - based at Dover - has also been suspended.
But unions warn the pilot scheme was brought in to deal with cuts in Border Agency staff - and will only get worse.
Three inquiries are now under way into what happened at the UK Border Agency and the row is set to continue, with the immigration minister due to give evidence next week about what he knew.
For now the game of "he said, she said" between Border Agency staff and government ministers continues.