Yorkshire flood defence grants of £456,000 issued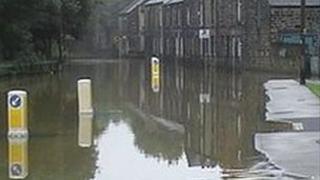 The Environment Agency has announced flood defence grants of £456,000 for four areas in Yorkshire.
The largest schemes give £320,000 to protect 75 houses in Darfield, South Yorkshire, and £85,000 for 20 houses in Pickering, North Yorkshire.
The money will be used for a total of 107 households at high risk of flooding to protect property using barriers and air brick covers.
Local authorities will distribute the grants to households.
The 75 properties in Darfield, on Doncaster Road, Riverside Close, Cliff Road and Church View, were damaged by flooding in June 2007.
Other flood protection grants in Yorkshire total £51,000 for eight houses in South Milford, North Yorkshire, and four in Eastwood near Callis Bridge, West Yorkshire.
Aidan Kerr, from the Environment Agency, said: "Flooding can have a devastating effect on people's homes and possessions.
"This funding will help people to reduce and, in some cases, prevent any damage caused to their homes and possessions."