'No interviews' after 40 job applications for Leeds graduate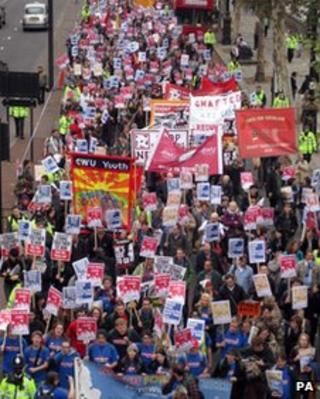 Twenty-two-year-old Ian Pattison has a masters degree in politics, but despite applying for more than 40 jobs, has not yet been invited for an interview.
Mr Pattison, from Roundhay, Leeds, is among a growing number of people aged 16 to 24 who are out of work and claiming benefit. October's figures show youth unemployment has reached a record high of more than one million.
Mr Pattison was among protesters who re-enacted the 1936 Jarrow March earlier this month to raise awareness about youth unemployment.
The group marched from Jarrow, Tyne and Wear, to London 75 years after 200 jobless men marched on the government calling for employment help.
Mr Pattison hopes to become a press officer, but has applied for a range of jobs, including academic mentoring and with charities and advisory bodies.
"There's just not enough jobs out there," he said. "There's big cuts in the public sector and less investment by private businesses so it's much harder to be taken on."
He believed his masters research and voluntary work gave him a good chance for one charity's internship, but later found out he had been one of 100 applicants.
'Best applications'
Since September, he has searched for jobs on websites, in newspapers and at job centres.
"I usually don't hear anything back," he said.
He said he was in a better position than many young people because his parents had been "very supportive" and he had avoided mounting debt while studying.
Mr Pattison took postgraduate qualifications to make himself "more employable" in a "worrying" market but was now living on Job Seeker's Allowance.
"To study for my masters I moved back home but I don't really have any prospect of moving out with an income of £53 a week," he said.
He added: "It can be very demoralising when people ask 'what do you do?' and I have to say 'I'm unemployed'... you're labelled by what you are and it's difficult saying you're not doing anything."
However, he believes he will eventually work as a press officer because he did such work voluntarily for student and youth campaigns and was good at it.
He said he was inspired by taking part in the Jarrow march re-enactment and that some marchers were even offered jobs along the 300-mile route.
Protesters handed a petition to 10 Downing Street calling for job creation schemes, new apprenticeships as well as the reinstatement of the Education Maintenance Allowance and axed youth services.
Mr Pattison said he was wary of taking work which paid the minimum wage or below as well as jobs "with terrible conditions" or hidden contracts.
"I put my time into the best applications, the best CVs and best covering letters and I want to focus on getting the job and career I want," he said.
Jobless figures 'higher'
Twenty-one-year-old Stephanie Maston has also moved back in with her parents after falling on hard times.
Ms Maston, from Ilkley, Leeds, said she was getting her life on track when she lost Employment and Support Allowance (ESA) of about £50 a week and housing benefit after being assessed under new government rules.
"I'm not on Job Seeker's Allowance, but there's a lot of people like me, not claiming it but who are unemployed," she said.
"It just shows the figures are a lot higher than they seem."
Ms Maston has bipolar disorder and is a recovering anorexic and claims she was wrongly assessed under the Work Capability Assessment (WCA) scheme.
She had been looking into voluntary placements to see whether teaching or veterinary work were suitable careers, but now felt demoralised.
"Since moving back home my morale has completely dropped and my self confidence has dropped. I just think why should I get a voluntary job when it won't lead to an actual job after that?" she said.
Like many young people she has begun campaigning against cuts which she said were happening while aid was going to "already rich" banks and businesses.
Ms Maston, who has joined the Occupy Leeds protest, called for decent affordable homes and an improved welfare system.
"We are the first generation who are worse off than our parents are and it's not just unfortunate, it's ridiculous - it just doesn't make sense," she said.
The government has put rises in youth unemployment down to the international financial crisis. Prime Minister David Cameron is hosting a breakfast with business leaders to discuss the issue.