Bristol, Darwen and Glasgow TV Licensing staff to strike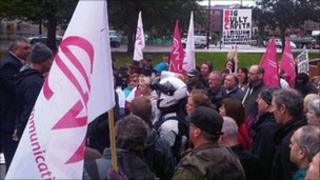 Hundreds of TV Licensing workers will strike for a third time later this week unless their employer engages in fresh pay talks, union leaders have warned.
The Communication Workers Union (CWU) said Capita's 2.6% to 2.7% pay offer was "far short" of inflation.
It said enforcement officers would strike on Thursday evening while office workers in Bristol, Darwen and Glasgow would walk out on Friday
Capita said it was disappointed at the ongoing industrial action.
The CWU said more than 500 members were expected to strike across three sites but the company disputed that figure.
CWU official Andy Furey said: "Capita staff are low-paid - many earning just above minimum wage - and they deserve a decent pay rise from a successful company that makes £1m a day in profits.
"Capita seems obsessed with its share price but it's time our members got their fair share of the success they create for this FTSE 100 company."
He added: "These workers are not militant, for many it's the first time they've ever been on strike. We're stepping into unchartered waters with unprecedented levels of strike action."
A company statement said: "Capita is disappointed that the CWU is continuing to call on its members to take industrial action following Monday 17th October's and Monday 31st October's one day strike actions and remains convinced that our offer of a minimum pay rise of 2.6% for 2010 and 2.7% for 2011 is fair.
"Fewer than one in four of the total workforce - 290 employees - took action on the 17th and even fewer employees, 260, took action on the 31st.
"On both days our contingency measures proved effective."