BAE job cuts: Eurofighter Typhoon order due from India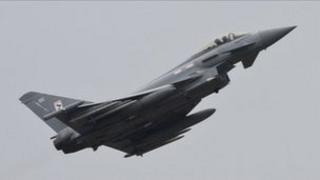 An announcement on new jet orders that could save jobs at BAE Systems is due "within the next few weeks", the defence secretary has confirmed.
Philip Hammond told the Commons the Indian government is likely to decide shortly on whether to place on an order for the Eurofighter Typhoon aircraft.
The deal could save hundreds of jobs at the firm's Warton plant near Preston.
The company is currently planning to cut 1,400 jobs in Lancashire and up to 900 at Brough in East Yorkshire.
Mr Hammond said: "UK ministers have been assiduous over the last few weeks in promoting the case for Typhoon in India and in other countries that are currently considering the purchase of new fast jets.
"We understand that there's likely to be an announcement in the next few weeks on the decision that has been made by the Indian government."
A Commons debate on BAE Systems' 3,000 planned job losses nationwide, has been scheduled by MPs on the Backbench Business Committee.
The debate set for 24 November will focus more broadly on the future of manufacturing and will look specifically at BAE Systems' losses.