Trinity Mirror to cut three titles and 66 jobs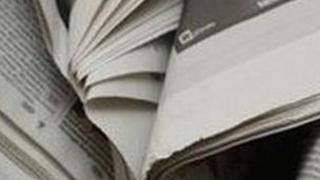 A newspaper group has announced plans to cut 66 jobs and close three free weekly papers in the Midlands.
Trinity Mirror said it would close the Chase Post, the Stafford Post and the Sutton News this week.
The company also said resources would be shared on a number of its other titles, following a review of the organisation.
The group owns 16 titles in the region, including the Birmingham Mail, Birmingham Post and Coventry Telegraph.
Chris Morley, from the National Union of Journalists, said the cuts were a "serious threat to journalism".
'Regional production hub'
"This is the third editorial attack on journalists' jobs by the company in the last three years," he said.
"In the last round, more than 100 journalists lost their jobs.
"We're talking (about) a very serious threat to overall journalism in West Midlands."
In a statement, the company said: "As a result of a detailed review of the business and in order to ensure a sustainable future for their newspapers and websites, Trinity Mirror's businesses in the Midlands have today announced a number of proposed changes to their organisational structure.
"The proposals include plans for the Trinity Mirror Midlands businesses to work more closely together and for more effective sharing of resources across the region in the editorial and advertising departments."
The statement said a regional production hub and features unit would be set up and some specialist reporter roles would be merged.
Forty five editorial posts are to go.
'Reduction in roles'
Under the proposals, the advertising department would also be merged into regional teams with 11 jobs to be cut.
The review has been carried out by new Trinity Mirror Midlands managing director Steve Anderson-Dixon.
He said: "This review of our organisational structure is vital if we are to ensure a future for our newspapers and websites in the Midlands.
"We all need to work more closely as a region and sharing key resources is a key theme in these proposals.
"These actions will result in a reduction in the number of roles at all levels, across a number of offices and departments."
The group has entered into a period of consultation with affected staff.