Which road should Europe take?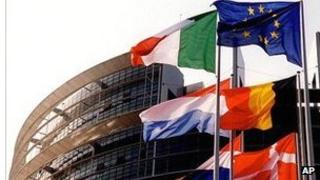 There is a feeling at the European Parliament that Europe is at a cross roads.
No one knows what will happen next in the eurozone crisis or what the long term outcome will be.
But all of the MEPs from the East of England are agreed - life will never be the same again.
"I know we're not supposed to say, "I told you so", but I did," says UKIP's Stuart Agnew.
"I take no pleasure whatsoever watching what's going on in Greece at the moment; they're in a real desperate state, trapped in an economic prison."
"What we're noticing is a linkage. It's quite obvious the eurozone is failing - after all there are not these problems in Romania or Bulgaria, which are considered to be poor countries, so it's got to be a problem with the eurozone.
"If the eurozone is going so obviously wrong this raises questions about the whole Europe political project."
Greater integration
The Liberal Democrat, Andrew Duff, a long time supporter of greater European integration, is worried by what's happening but says the crisis could be seen as an opportunity.
"It is a time for sober reflection and quick reform to establish not only market confidence but democratic trust," he says.
"The danger of disintegration is acute and we've got to do all we can to salvage the euro. That requires a deepening of political integration.
"I think it will happen because the markets aren't convinced that the agreements we've made so far are strong enough, so we must do more."
Geoffrey Van Orden, for the Conservatives, says the crisis is an opportunity for Britain to re-shape its relationship with Europe.
"I think at last the political class has caught up with what the rest of us have known for a long time, which is that there are a lot of profound problems with the EU project.
"We need to work out what sort of relationship the UK wants to have with the European union.
"One of the concerns many of us have at the moment is that this more intense coming together of countries in the eurozone (to tackle the crisis) will affect us."
British influence?
He added: "What's going to happen to those countries that are not in the eurozone? What will be the relationship between the ins and the outs?
"That's something we need to pay a lot of attention to because I've no doubt the French, in particular, would like nothing better than to diminish the role of the city of London and undermine a lot of the British influence in Europe."
Labour's Richard Howitt worries that such a stance gives people the impression that Britain doesn't want to be a full part of Europe.
"When the French President tells the British Prime Minister to shut up, it's indicative that harking on with eurosceptic concerns is profoundly counter productive and David Cameron needs to learn that lesson."
He points out that 60% of the east of England's imports and exports come from Europe.
"I worry about businesses and employees in our region who are struggling because of this crisis," he says.
"As in England I am making it clear over here that the cuts must not be too fast or they will be counter productive and hold back growth.
"The Labour case is that we should spend a bit more now and that will come back and sustain jobs."