Daventry MP forces Fifa climbdown over poppies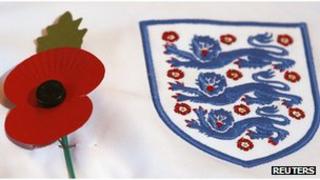 England footballers wearing Remembrance Day poppies in their friendly against Spain owed some thanks to Chris Heaton-Harris, the President of Earls Barton Football club and - in his spare time - MP for Daventry.
An active and qualified football referee, who's been officiating the game for nearly 30 years, Mr Harris currently referees on the Northamptonshire Combination League most Saturday afternoons.
Fifa had initially said no to a request for the England team to wear poppies on their strip.
Both Prince William and David Cameron, no less, expressed dissatisfaction at the decision and Mr Heaton-Harris was keen to help.
"I was a member of the European Parliament for 10 years and was used to people in Brussels and Strasbourg asking me what the poppy was and having to explain it.
"We are the only people who do this sort of thing in this way. So I could understand why Fifa might have got themselves to this position.
"As an MEP I was chairman of the Friends of Football and got to know various people from UEFA and Fifa, so I knew some of the people to get hold of. I thought there was a fairly obvious compromise here.
"I sent a text to someone who was a confidante of Sepp Blatter, the President of Fifa, and he changed it to an email and sent it to Sepp.
"It went quiet for a while and I thought they had dismissed the idea."
Placard protest
But he later got a text back and was told that Sepp Blatter "liked a reasonable compromise".
He said that on the roof of the Fifa building Zurich some members of the English Defence League had started to protest with a placard about the poppy ban. Given this situation, with a political protest going on, "it would have been the easiest thing for Fifa to have said no".
Asked why he thought they had changed their mind he said: "Someone had taken the time to explain that the poppy symbolised peace and remembrance.
"We take that for granted in the UK but you don't have to go too far into continental Europe before people just don't get it."
Current FA regulations state that only the country's own brand logo (i.e. the three lions in the case of England) are to appear on the shirt.
Chris Heaton-Harris said that the armband was the obvious way ahead as he'd seen armbands used for commemorations before.
Poppies have been embroidered onto strips in the UK for a few years now, so players here are already able to wear them but because this was an international fixture, Fifa had to be involved.
Mr Heaton-Harris believes the issue has come to the fore because the strength of feeling over the poppy has grown in the last few years.
He said: "I am absolutely sure that the reason there is so much strong feeling is because of the recent conflict.
"Everyone knows someone who has a friend or relative who has served or who is serving."
The last match he referreed was Daventry Comms vs Rowley. The score? "Three constituents cautioned and one sent off!"