Bradford's Buttershaw blues on deprived estate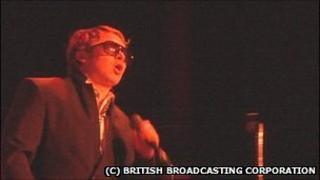 Every so often you hear or see something that pulls you up short.
This week it was listening to a teenage lad called James Lynch on a stage in Bradford singing his own song - the 'Buttershaw Blues'.
Buttershaw is where James Lynch lives. It's a sprawling housing estate on the south eastern edge of Bradford.
Built as council housing from the end of the Second World War and into the 1960s it has some of the lowest incomes and highest unemployment levels in the UK.
James' surprisingly throaty lyrics said it all.
"We're going to make a difference. We're going to make a change. We need your support. It's those Buttershaw blues."
Life on the breadline
James was in a show being put on by a group of youngsters from the estate at Bradford's St George's Hall in the city centre.
In the audience were two of the city's MPs and a clutch of city councillors.
The show was aimed at the way in which 'the establishment' makes thoughtless decisions which can make life even harder than it already is.
The high cost of school uniforms was at the centre of their show.
They had researched how much of a struggle it is to buy the correct clothing for families already on the breadline.
In a series of brutally frank sketches, short video films and songs they pointed out how bullying, depression and truancy are common consequences for children unable to afford the level of uniform demanded by some schools.
'Our Shout'
The youngsters using the stage as their lobbying platform are part of a project called Our Shout which the charity Save the Children has been running for the past few years in Bradford.
Fourteen-year-old rapper Charleace Kesler who lives on the equally economically deprived neighbouring Canterbury Estate told me the project had given youngsters like her a voice.
"We want people to go away tonight thinking how they can change things," she said.
"I've really enjoying doing this but there's a serious message. We went to all the party conferences this year and told them there.
"Now we want Bradford to hear what we are saying."
It has had an immediate effect with both Liberal Democrat MP David Ward and Labour's Gerry Sutcliffe pledging to ring up every school in Bradford to check out their policies on school uniforms.
It is not the first time that drama has been used to highlight life for teenagers on the Buttershaw Estate.
In 1986 local writer Andrea Dunbar came up with the idea for a warts-and-all story which eventually became the highly acclaimed film 'Rita, Sue and Bob Too'.
But 25 years later the youngsters still have the 'Buttershaw Blues'.