Merseyside gun smuggler Steven Cardwell sent to jail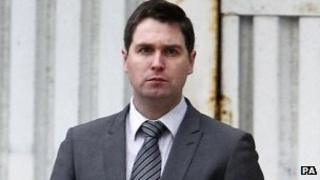 Gun runner Steven Cardwell who sold an arsenal of military firearms that were smuggled into the UK from the US has been jailed.
Cardwell was given an indeterminate jail sentence at Liverpool Crown Court and told he would not be able to apply for parole for at least 11 years.
The 31-year-old, of Aintree, Merseyside, had denied conspiring to import, sell and possess firearms.
The court heard he acquired the arms from a former US marine.
'Extremely grave'
Cardwell obtained scores of handguns from smuggler Steven Greenoe, who hid the weapons in his luggage on transatlantic flights.
He was found guilty yesterday of conspiracy to import, sell and possess prohibited firearms with intent to endanger life following a four-week trial.
Cardwell, of Old Church Close, was told by Judge Elgan Edwards that his were "extremely grave crimes".
"You co-operated with Greenoe and you were a vital part of the distribution network," the judge said.
"You distributed handguns which could have had no lawful purpose.
"You imported them into this country and distributed them to the criminal underworld."
The smuggled weapons were used in at least one fatal shooting in the UK, the details of which cannot be reported for legal reasons.
The jury was also told that that gun cartridges found at the scene of a drive-by shooting in Wythenshawe, Manchester, in October 2010, matched guns bought by Greenoe in the US.
Another composite weapon used in the attempted robbery of a Liverpool taxi driver in March 2010, was matched by forensics to two guns purchased by Greenoe.