Duke's dinner raises National Memorial Arboretum £4.2m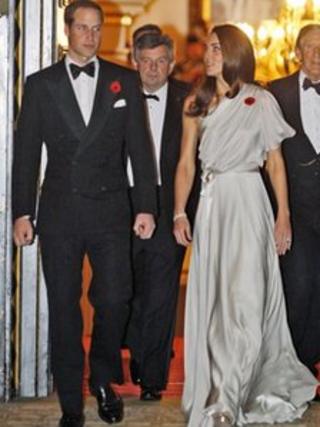 About 120 people have raised or pledged £4.2m for a project to improve the National Memorial Arboretum.
They attended a fundraising dinner with the Duke and Duchess of Cambridge at St James's Palace on Thursday in aid of the arboretum's £12m appeal.
Prince William launched the initiative and became its patron when he visited Alrewas, Staffordshire, in April 2009.
Plans have included building a restaurant, a shop and a covered area for large services of remembrance.
On Thursday the duke told guests at the dinner that the site had become "the iconic focal point" for the nation's remembrance of British heroes.
He said: "Those who make the journey to visit the National Memorial Arboretum... deserve to be looked after when they are there."
Service of remembrance
Actresses Penelope Keith and Susan Hampshire, who have been long-term supporters of Britain's armed forces, were among the guests.
Jacqui Thompson, the widow of Senior Aircraftman Gary Thompson, who was the oldest British serviceman to be killed in the wars in either Afghanistan or Iraq, addressed the dinner.
Mrs Thompson said the arboretum "is such an incredible place" and Prince William's interest in the appeal "means such a lot".
Senior Aircraftman Thompson, a father-of-five and a managing director in Nottingham, served with the Royal Auxiliary Air Force Regiment and was fatally injured in a roadside bomb blast in April 2008 outside Kandahar Airfield, Afghanistan.
The arboretum is home to the Armed Forces Memorial, which remembers those who have died in conflict while on duty or as a result of terrorist action since World War II.
The monument is designed so that at 11:00 GMT on 11 November a shaft of sunlight passes though a slot in its inner and outer walls and hits a central bronze wreath sculpture.