New Thames crossing 'will help' Dartford Crossing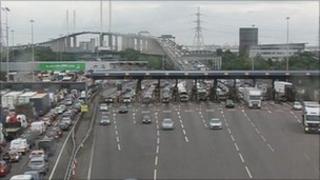 The government has reiterated its belief that queues at the Dartford Crossing are so bad there will have to be a new, extra Thames crossing.
Roads minister Mike Penning said it would alleviate congestion at the tolls caused by "the success" of the M25.
He was responding to John Baron, Tory MP for Basildon and Billericay, who had suggested introducing automatic number plate recognition technology instead.
Mr Baron said it could solve congestion at the Dartford Crossing.
He told MPs that it would be better than raising the tariffs to fund a second crossing.
But Mr Penning said the Department for Transport did not believe Mr Baron's solution would work.
'Archaic barriers'
"Even with free-flow tolling at Dartford the northern approach to the tunnel would still be congested even on the predictions we have now.
"The small bore tunnel has a huge restriction. We need to look at another crossing for the Thames because this is national, I repeat national, infrastructure," he said.
Conservative MP for Sevenoaks Michael Fallon also said the existing crossing could be improved.
"Do you accept there is a persistently serious problem of congestion both northbound and southbound which is costing everybody an awful lot of time and money?
"Why can't we have earlier and clearer signage and much better traffic management in front of the toll booths themselves?"
Mr Penning said: "We are very aware of the congestion at the tolls.
"Most of the congestion is caused by the barriers, which is an archaic method of collecting tolls, and we will introduce free-flow tolling as soon as we can."