Elephant cruelty case: Bobby Roberts' Circus owners charged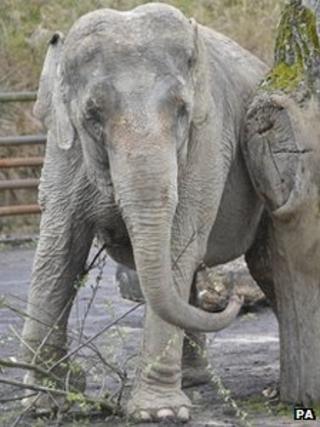 Two circus owners have been charged with causing unnecessary suffering to an elephant.
Action was originally brought by Animal Defenders International (ADI) which investigated the elephant's welfare at Bobby Roberts' circus in Peterborough.
The Crown Prosecution Service said it had now taken over the prosecution of husband and wife Bobby and Moira Roberts, who run the circus.
The elephant, Anne, was later moved to Longleat Safari Park in Wiltshire.
Mr and Mrs Roberts will appear before Corby Magistrates' Court, in Northamptonshire, on 16 November.
Shock and dismay
They are accused of keeping the 58-year-old elephant chained to the ground at all times.
They are also accused of failing to prevent an employee from repeatedly beating Anne.
The elephant was brought from Sri Lanka to The Bobby Roberts Super Circus in Peterborough in the 1950s.
A CPS spokesman said: "Given the public concern over the case, the Director of Public Prosecutions, Keir Starmer QC, has now agreed that the CPS take over and continue the legal proceedings against the Roberts."
Moira Roberts told the BBC News website: "We are shocked and dismayed, we honestly felt this would get thrown out.
"We've done nothing wrong. It's been the worst year of our lives.
"We've been in business a long time and financially and mentally we've had the worst year of our lives."
The ADI, a worldwide animal welfare organisation, carried out an undercover investigation between 21 January and 15 February this year and filmed the elephant in a barn in Polebrook, Northamptonshire.
Jan Creamer, ADI chief executive, said: "We are delighted that the CPS are taking on this prosecution and will assist them as necessary."