Emerging market sales 'behind Jaguar Land Rover success'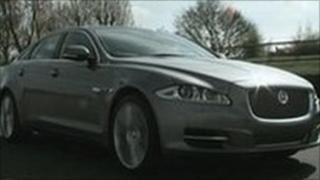 Jaguar Land Rover (JLR) is to take on more than 1,000 production staff at a plant in the West Midlands, it has been announced.
The move, which will increase the workforce at the Solihull plant by more than 25%, represents a remarkable turnaround for the firm, which was considering closing one if its two factories in the region just last year.
Kevin Morley, former Rover managing director and honorary professor at Warwick Business School, said sales in emerging markets, such as China and India, had been key to its success.
He said: "It's excellent news. It comes on top of news last April when they were looking for 1,000 engineers to recruit as well."
Mr Morley added: "They are selling a lot of cars, but in fairness, the motoring industry is doing quite well at the moment. Not in the UK and Europe, it's mainly in China, India and Russia, places like that.
"They are doing extraordinarily well. They are buying thousands and thousands of cars that they haven't done in the past."
Industry experts have said that Jaguar and Land Rover are fast becoming "trophy brands" for millions of people in emerging markets.
'Product creation'
Mr Morley said the sales growth had been seen "particularly by quality manufacturers" like Jaguar, Land Rover, BMW and Mercedes Benz.
"They are all doing very well, selling cars in the likes of China and India," he said.
Mr Morley said Range Rovers were selling well in India where they were a "huge success story".
JLR confirmed that in September, sales for Land Rover in India were up 155% from the year before, while Jaguar cars saw a 63% rise.
JLR, which was taken over from Ford by Indian car giant Tata in 2008, sold nearly 244,000 vehicles around the world in the last financial year, representing a 26% increase from the previous year.
Industry experts say JLR has benefited from foreign exchange rates as well as the popularity of new models such as Jaguar XJ and the Range Rover Evoque.
The biggest growth for JLR was in China in the past year and the country is now the firm's third biggest market. Britain, which saw an 8% rise in its Land Rover sales in 2011, remains JLR's largest market, with the America its second.
'Unbridled ambition'
JLR said that in the past year, sales in China had increased by 92%. JLR is set to have its 100th authorised dealership in the country with the opening of a site in Zhengzhou.
A JLR spokeswoman said: "This record performance has been driven by sales of the XJ following the introduction of the 3.0l engine and a continuing strong performance from all Land Rover models."
The firm has seen a marked growth in sales in other countries, including in France and Germany as well as in Brazil, where Land Rover sales have seen a 55% increase.
Adrian Hallmark, the firm's global brand manager, said earlier this year that it had gone "from survival to unbridled ambition in three years".
JLR said its recruitment drive followed a multi-million pound investment in product creation and plans to deliver "40 significant product actions", which could be anything from a new engine to a new model, over the next five years.
Mr Morley said: "They made a £1bn profit last year and are looking to do probably better this year."