A14 toll road would 'boost economic growth'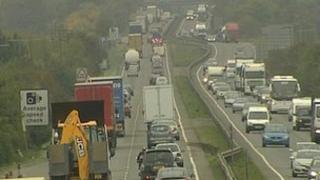 Charging some drivers to use the A14 could help reduce congestion and boost the economy, the CBI says.
The road is the main east to west route through East Anglia and connects the M6 to Northamptonshire, Cambridgeshire and the port at Felixstowe.
A £1.4bn plan to upgrade it was shelved as part of the government's Spending Review in 2010.
The CBI said private sector investment could pay for a toll lane which drivers could choose to use.
The CBI's regional director for the east, Richard Tunnicliffe, described the A14 as "one of the main arteries in and out of the east of England, from the ports, and to the Midlands".
He said that increasing capacity on the road would help to address the "infrastructure deficit" in the east and south east of the country.
'Investment returns'
"This proposal would enable the very congested A14 to have some shovels in the ground pretty soon," Mr Tunnicliffe said.
"We're not suggesting that we stick a toll booth on the current congested A14 and then start charging people to use it.
"It's got to be an alternative. Those that choose to go on the new road or on a new lane on the existing road can do so - a bit like the M6 toll road."
He added that the CBI was confident that financial institutions "would stump up the money to build it" and would see a return on their investment.
"The government has said in the past few weeks that it will consider private investment in new roads and subsequently charging a toll," Mr Tunnicliffe said.
"The CBI has put in its submission to the chancellor in advance of the autumn statement, and we have suggested that the A14 should be one of those roads that they look at tolling in the future."
A spokesman from the Department for Transport said it recognised that mobility on the A14 was "critical for economic success and growth".
It said it was looking at "cost-effective and practical proposals" involving toll schemes run by the the private sector.