Two new RNLI lifeboats donated through woman's legacy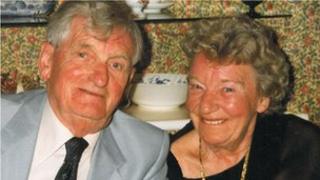 Two new "his and her" lifeboats have gone into service at the RNLI, thanks to money donated by a legacy from a West Midlands woman.
Marjorie Gallon, left enough money before she died in 2007, to provide two new D class lifeboats for the charity.
Costing £39,000 each, one will replace Sunderland's previous D class and the other will be a relief boat, covering at lifeboat stations were it is needed.
The two boats will be formally named next year during a special ceremony.
One of the boats is named Myjo, in memory of her husband Joe who died in 1999.
The second Myway, is named after Mrs Gallon as her friend Sue Roberts said it "was the way she liked to do things".
Myjo replaces Sunderland's previous D class Helen and Ian Tytler, which has come to the end of its operational life after being launched on 206 rescue missions.
'Kindness and support'
Mrs Roberts said: "Marjorie was a lovely lady who had a lot of tales to tell and a great sense of humour.
"She would be delighted to know that the two lifeboats are now going into operation and will be used to save lives at sea."
The D class lifeboat, first introduced into the RNLI in 1963, was designed to be launched quickly and easily, providing a rapid response to distress calls close to shore.
Martin Andrew, from Sunderland RNLI, said: "We are all thrilled with the lifeboat and are extremely grateful to Mrs Gallon for this very generous gift.
"The kindness and support of people who leave legacies to our charity provides 60% of the funding we need.
"Without people like Mrs Gallon, RNLI volunteer crews simply wouldn't be able to carry on saving lives at sea."
Mr and Mrs Gallon lived in Shirley, Solihull before they died.