Absconder suicides prompt Commons mental health debate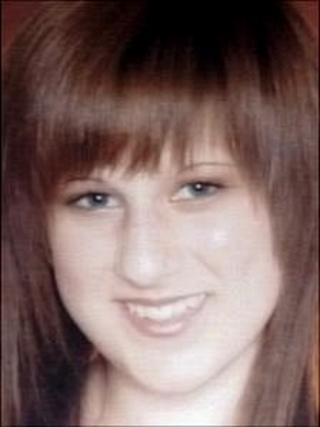 It's not very often that MPs debate mental health in the House of Commons, but the tragic death of a teenager has forced the issue up the political agenda.
It has also prompted the government to review its policy towards mental health.
19-year-old Kirsty Brooks, from Leicestershire, took her own life after absconding from the Bradgate mental health unit at Leicester's Glenfield Hospital in June last year.
The inquest coroner's findings were highly critical of staff shortages and the lack of adequate observation of Kirsty.
Her family and their MP Nicky Morgan had demanded a thorough review of how patients are monitored in such units.
But what's particularly alarming are the results of a survey of most NHS mental health trusts by the MP.
'Storing up trouble'
Using Freedom of Information requests, Nicky Morgan found that 40,000 patients had absconded from such NHS units in England over a five year period.
In Leicestershire, which includes her Loughborough constituency, there were 386 similar cases.
In neighbouring Nottinghamshire, just over 1,500 patients had absconded.
In a Commons debate, Nicky Morgan said that up to a third of absconders were likely to kill themselves or attempt suicide; changes were necessary.
She told MPs: "If we don't do that, we will be storing up huge trouble for the country, and there will be more tragic deaths of patients like Kirsty, which could perhaps have been prevented."
One of the changes is keeping a closer watch on patients.
There'll be a greater use of swipe cards and observation cameras, and a more robust reporting system when patients do abscond.
She added: "But we need more research in order to understand the scale of the problem.
"The information I obtained is, I hope, a good start, but the NHS should insist that trusts use one set of definitions so that numbers can be properly compared.
"Trusts with low incidences of absconding could share their experiences with those whose absconding rate is very much higher."
The minister responsible for health care services is Paul Burstow, a Liberal Democrat.
He points to new statutory requirements on NHS Trusts to inform the Care Quality Commission of mental health patients who abscond.
"The Commission recommends that providers monitor and review absences without leave, to understand why patients go absent and to help develop strategies to address these identified issues," he said.
"I am keenly aware that the trust involved in this sad case fully accepts the coroner's verdict and has undertaken an overhaul of its patient security arrangements.
"It is important for public confidence in the system that lessons are learned and actions are taken to improve patient safety and service quality."
Health dilemma
Recent NHS figures reveal there is a suicide in England every two hours.
That's a total of 4,400 since 2009 - and that's lower than most European countries.
Kirsty was one of 21 mental health patients last year who had absconded and took their own lives.
Staffing levels, maintains Nicky Morgan, aren't an issue.
"In Kirsty's case, there were enough staff on duty," she told me.
"They just weren't managed properly. That's the other lesson that needs to be learned from this very sad case."
There's a dilemma for government policy makers and health professionals working in mental health units - it's getting the balance right between overbearing security and a more relaxed care regime.