Network Rail builds icy weather trains for South East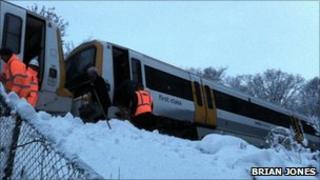 A fleet of snow and ice-treatment trains is being built by Network Rail in Derby to help keep services running in the South East during icy weather.
Passengers suffered cancellations and delays on Southeastern services in Kent, Surrey and Sussex last December.
Hundreds of passengers were stuck for several hours overnight on trains.
The snow treatment train will consist of a snow plough, locomotive and treatment wagon at each end, meaning it can travel in both directions.
The six trains were developed at a cost of £10m and will be brought into service next month.
They are part of a £40m investment to improve services during the winter months.
Two will operate in Kent, two in Sussex and two for Surrey, Hampshire and Dorset.
Network Rail said the south east of England has "the only railway in the world of this size, complexity and high level of usage".
The snow treatment train is designed to clear snow from the rails to 50mm above the track at the front of the train.
A snow plough is pushed by a locomotive, with a treatment wagon behind equipped with sleet brushes to scrape ice from the conductor rail.
Hot de-icing fluid is also applied to the rails from the treatment wagon with up to 30 hours of continuous operation possible.
Southeastern was heavily criticised in December after passengers suffered delays, cancellations and amended timetables during the snowy weather. Southern Railway services also suffered during the severe conditions.
In September, Southeastern announced that stranded train passengers would be provided with glowsticks and foil blankets as part of its severe weather contingency plans.
Anthony Smith, the chief executive of Passenger Focus, said passengers would be pleased to hear about the winter planning.
However, he added: "The proof is in the pudding and the industry will be under the spotlight this year."