Red Arrows 'will fly again' says former head of RAF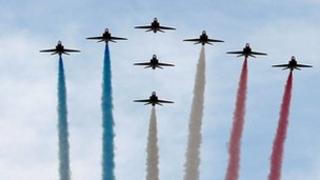 The former head of the RAF has said the latest Red Arrows tragedy should not affect the future of the world famous aerobatics team.
Flt Lt Sean Cunningham was ejected from a Hawk T1 while it was still on the ground at RAF Scampton on Tuesday.
His death comes less than three months after that of Flt Lt Jon Egging in a crash near Bournemouth Airport.
Sir Michael Graydon said he was sure the Arrows would fly again next year in all their "splendour".
The former Air Chief Marshal said: "The Red Arrows will come through this and I think they will continue to use well proven methods of selection and well proven methods of training."
'Close-knit team'
Support and tributes have been coming in for the Red Arrows following Flt Lt Cunningham's death.
Former pilot and Air Vice Marshal Jerry Connelly said: "They are a very close-knit family.
"The Red Arrows are the face of the Royal Air Force, the face of the nation, in so many ways.
"Everything about the Red Arrows is brilliant but that all comes from being a very close-knit team."
Tony Cunnane, a former Red Arrows public relations officer, said the aerobatics team was made up of the very best.
"They are amongst the highest skilled pilots in the RAF.
"Not everybody would agree with that but it is a fact. They're all fighter pilots or fighter bomber pilots with lots of flying hours.
"They're specially selected and above average in everything they do. They are the peak, the professionalism in the Royal Air Force."
'Dreadful shock'
The Red Arrows' air show commentator Sean Maffett said he could not believe what had happened.
"I'm absolutely horrified," he said. "This is a dreadful shock."
"Nobody has been killed in a Red Arrows aircraft for a long time and then suddenly two pilots die within a few months of each other and in completely unconnected incidents."
The Red Arrows team has completed more than 4,300 displays in 53 countries since it was formed in 1965.
Before August, the last pilot to be killed was Flt Lt Neil MacLachlan in 1988.
At the time of Flt Lt Cunningham's death, the team had completed its final display of the season and was carrying out winter training at Scampton.