Brooking Collection fuelled by fixtures and fittings fascination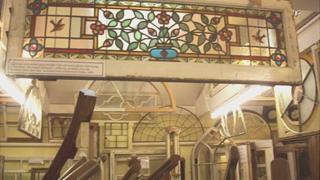 When the old Wembley Stadium, the scene of England's much celebrated 1966 World Cup win, was demolished in 2003 Charles Brooking was there to grab a small slice of history.
Mr Brooking was given permission to take home the Royal Tunnel Gates and items including the crowns and flagpoles which topped the stadium's famous twin towers to add to his vast collection of architectural detail.
The 58-year-old has dedicated his life to gathering the doors, windows, fireplaces, staircases and other pieces which chart the history of British architectural design over 500 years.
The 16ft (5m) stadium gates were auctioned for nearly £6,000 at Sotheby's in London on Tuesday to help raise money to set up a new home for the Brooking Collection, which now has more than 200,000 items.
'Sea of plastic'
For the past 23 years, most of the collection owned by the Brooking Trust, a registered charity, has been housed by the University of Greenwich in a massive warehouse.
But Mr Brooking said the ending of the lease had given trustees the "massive undertaking" of finding a permanent home for the collection and also inspired them to create a "centre of excellence" for its use by conservationists, architects and interior designers.
He said: "It [will be] a resource centre rather than dry museum, so schoolchildren, historians, and craftsmen can come and understand the history of the everyday window over the last 400 to 500 years."
His partner Susan Beardmore, who is involved in the project, said it could also help apprentices learning traditional skills to preserve National Trust homes and other properties.
Mr Brooking, of Cranleigh, Surrey, hopes to save the unique collection for the nation.
"A sea of plastic is enveloping the British Isles and I want to preserve the social nuances and subtle changes that went into building types and of course in a large house, even up to the 1930s you had a servants' area."
He said such historical references were being "obliterated as people buy older houses, younger couples in their 40s and 30s come in and rip everything out and I arrive in my car and retrieve what I can and photograph everything in-situ."
The collection has absorbed most of Mr Brooking's time and money.
"If you have a passion, if you enjoy your work, you never stop spending all your money on it. We live for the work," he said.
He has recovered pieces from Victorian terraces in Birmingham and Manchester, to large estates, embassies and palaces.
"The whole thing has been driven by a fascination with history since the age of three and the design and materials used," he said.
Window for birthday
At three, he became fascinated by house numbers made from Bakelite, an early plastic, and was enchanted by their shapes and differences.
He asked for a sash window for his seventh birthday but was annoyed when the one he received was not in full working order.
His glamorous mother Edith was also a huge inspiration.
He said her art gallery at The Strand, which was frequented by actor Noel Coward and entertainer Ivor Novello, was a "complete Aladdin's cave" of porcelain, jewellery and oil paintings.
However, his parents did not initially support his hobby and his father, a financial director for food processor-maker Kenwood, referred to his growing collection as "eccentric rubbish".
Mr Brooking said he was persuaded to "give up that silly interest in old buildings" for the more conventional hobby of fossil collecting and his sash window and other objects were burnt in a Bonfire Night blaze in 1962.
However, soon afterwards he went to Normansal Preparatory School in Seaford, East Sussex, and intricate features of the beautiful Edwardian building again fired his interest.
'Alight with enthusiasm'
Mr Brooking said he had also been inspired by a home tutor called Edward Wyer who, although recruited to teach him maths, was a great art historian who took him round old buildings "pointing out the joys of the arts and crafts".
Mr Brooking said he was soon "alight with enthusiasm" and began his collection in earnest.
The teacher helped persuade Mr Brooking's parents that it was a worthwhile hobby and, at 13, young Charles opened his first architectural museum in his bedroom and shed.
His father later helped set up the trust which has preserved the unusual collection.
Mr Brooking said the collection featured "the grand right down to the everyday".
Through working with the Royal Collection, the "grand" includes pieces from Windsor Castle after it was repaired following the devastating fire in 1992.
It also includes balusters from the Royal Albert Hall emblazoned with the letter A in the cast iron work.
"When I saw that I thought 'just imagine, that was symbolic of Queen Victoria's grief," Mr Brooking said.
He also has an 18th Century oak casement window from the lantern of St Paul's Cathedral and windows and doors from Downing Street after it was revamped in the 1990s to improve security.
He added: "It isn't some nerd's collection of ironmongery sash pulley windows for the sake of it - it is a useful resource.
"It has given me great pleasure but I want to leave it in order so it can go on being useful and a tool for teaching.
"That's what it's all about."