Tributes laid for Red Arrows pilot killed at RAF Scampton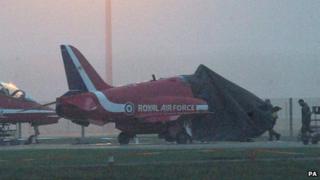 Floral tributes are being laid outside RAF Scampton in Lincolnshire where a Red Arrows pilot died on Tuesday.
The MoD confirmed the man died after being ejected from a Hawk T1 jet while it was on the ground at the aerobatic team's base.
The Military Aviation Authority is carrying out an independent inquiry to determine the cause of the accident.
People have left flowers and messages of support at the main entrance to the Red Arrows base.
The pilot's family has asked for a period of grace until his name is released.
Red Arrows training has been suspended but the RAF's other Hawk T1 jets will continue to fly.
Gerry Connelly, a retired Air Vice Marshal and former commander at RAF Wittering in Cambridgeshire, said that "you don't expect to have this sort of tragedy other than in the air".
He said: "It's bad enough when you have a flying incident - it's even worse when you have an accident on the ground which involves a loss of life.
"Such a tragic incident as this it really does shake the organisation to the core."
In 2010, the Ministry of Defence suspended Hawk T1 flights across the country for nearly a week when a potential problem was detected with ejection seats.
Speaking about the inquiry, Gp Capt Simon Blake, from RAF Scampton, said: "It would be inappropriate to speculate on the cause of the incident until that inquiry is complete. The investigation will determine the facts.
"The pilot's next of kin have been informed. Our thoughts and prayers are with the pilot's family and friends at this difficult time."
The Red Arrows team was formed in 1965 and has completed more than 4,300 displays in 53 countries.
The team completed its final display of the season in September and was currently carrying out its winter training at RAF Scampton.