The politics of Remembrance Sunday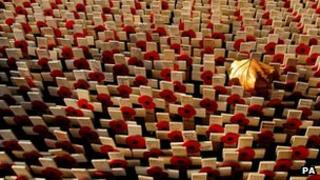 I always think there's something deeply impressive and yet rather incongruous about our political leaders' time-honoured role on Remembrance Sunday.
At one level, the normal party political Punch and Judy Show takes a back seat as the nation remembers the servicemen and women who fought in two world wars as well as in present conflicts including Afghanistan.
Prime Ministers past and present from opposite sides of the parliamentary battlefield join together as the nation pauses to commemorate the brave men and women who lost their lives for their country.
And that is why, on another level, it is also a moment of profound political significance.
Armed Forces Covenant
The state's obligation to its armed services who put their lives on the line for this country became a political issue before the election when the Conservatives attacked the Labour government for not tying it down into a single coherent document and enshrining it in law.
The coalition government has done exactly that.
But the politics has taken a new, and perhaps unexpected turn.
Defence reporters detect what many in the military would consider shocking ingratitude - jealously.
At a time when public services are being squeezed, sections of the civilian population are apparently showing signs of resentment when servicemen and women receive what could be considered preferential treatment by the state.
This is among the issues I shall be exploring on this Remembrance Sunday's edition of the Politics Show.
Sunday debate
Among our guests will be the Labour MP Steve McCabe, whose Birmingham Selly Oak constituency includes the internationally renowned Centre for Defence Medicine in the city's newly opened Queen Elizabeth 'super hospital'.
How would he expect his constituents to react when they are expected to wait for treatment while service personnel are fast-tracked through to theirs?
Also with me will be the Defence Minister and Conservative MP for Mid Worcestershire, Peter Luff.
And I have already recorded an interview with the former Defence Secretary and Labour MP for Coventry North East, Bob Ainsworth.
In one of his most reflective interviews since losing power last year, he talks about the privileges of high office and the frustrations of not being able to respond as quickly as he would have liked to the demands for improved equipment, especially for soldiers serving in combat zones.
I hope you will be able to join us at the later time of 15.15 this week on BBC One on Remembrance Sunday, 13 November 2011.