Parliament examines marginalisation of Christianity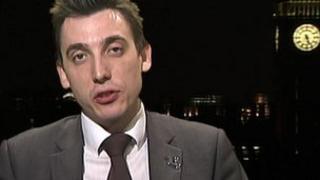 The question of whether Christians are being marginalised is being asked in parliament.
MPs and peers are concerned that changes to the law could be pushing the Christian faith to the margins of society.
Labour's Gavin Shuker is a member of the "Clearing the Ground" inquiry, a parliamentary group trying to identify if Christian life is being compromised.
The MP for Luton South said: "Too often it seems like we're living in a world that doesn't understand religion, but it needs to.
"Hopefully this inquiry will help everyone understand religion a little bit better."
He wants to reassure people of faith that parliament is actually listening to them.
"Bits of legislation on what we can and can't do upholds the rights of minorities, which is absolutely right, but the majority has rights too and there are times when they can pull against one another," he tells me.
Faith in society
"It's a difficult area but we are trying to be helpful.
"We hope to make recommendations to create a framework that people can understand and work with."
Mr Shuker, who used to lead a church in Luton, asks whether secularism is neutral.
"Is removing faith from society neutral? I don't think so. I do not think the removal of faith is a model for a healthy society."
Written submissions to the inquiry suggest that there is a great deal of confusion about how the law affects religious belief and activity.
The inquiry hopes to make its recommendations in the New Year.