Appeal to help return lost will to family of WWII soldier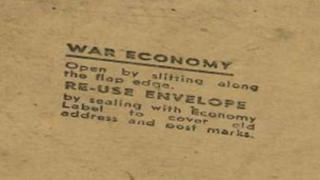 A search is under way to find the family of a soldier who died during World War II after a copy of his will was found in a lost property office.
It was found with a letter dated November 1944 informing Private Gordon Heaton's family of his death in battle.
He was 21 and serving with the Worcestershire Regiment.
National Express West Midlands is keen to trace Private Heaton's relatives and return the documents to them after they were found at a Birmingham bus garage.
They were discovered during a refurbishment of the company's lost property office at the Acocks Green depot at the end of October.
Buried in France
Christine McDaid, administration controller with National Express, said they found the documents on top of shelves.
"We were clearing everything out... and washing the pigeon holes where we keep the lost property and there it was just sort of sitting under a box, full of dust," she said.
Miss McDaid said the letters were open and when they saw what they were, they wanted to try and reunite them with Private Heaton's family.
"I thought somebody's lost this, and it's somebody's heirloom. I just think it's something that should go back to family," she added.
Miss McDaid said she used the internet and "did some ringing around to the Army" to find out more about the young soldier who she discovered was buried in France.
"It pulls at the strings of your heart", she said.
"I just wanted it to get back to the people that it should go to," Miss McDaid added.