Catherine Zaks: Parents speak of 'living nightmare'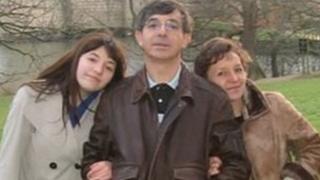 The parents of a University of Kent student who was murdered in Poland in July have spoken of how their life has been turned into a "living nightmare".
Catherine Zaks was found bludgeoned to death next to a railway embankment in Krakow, where she had been on a work placement at an art gallery.
Viola and Greg Zaks, from Staplecross, East Sussex, described the 21-year-old as "a captivating" woman.
A 44-year-old bus driver arrested in Krakow has been charged with murder.
Ms Zaks, who had joint British and Polish nationality and lived in Canterbury, was staying with relatives in Krakow while working there for a month during her second year at university.
'Loved people'
Mrs Zaks said she spoke to her daughter nearly every day, and she was very happy.
"She was a very popular person wherever she went. She was so friendly - she captivated everyone.
"And she loved people, so it was excellent for her, and she loved what she was doing," she said.
Mr Zaks said dealing with their loss was very difficult.
"You wake up in the morning and all you've got to think about is when you're going back to bed because it's not going to end.
"Maybe time will help."