Four police forces bring in new non-emergency number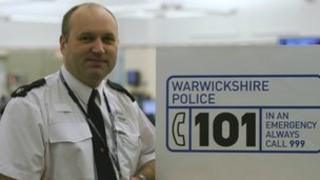 Four police forces in the West Midlands have introduced a new 101 number for non-emergency calls.
Staffordshire, Warwickshire, West Mercia and West Midlands police have brought it in to report crimes like stolen cars and damaged property.
It is part of a phased rollout of the number in England and Wales.
Police said it cost 15p a call from landlines and mobile phones, and stressed it did not replace calling 999 for emergencies.
Police said other examples the new number could be used for were reporting a minor traffic collision or seeking crime prevention advice.
Ch Supt Trevor Albutt, head of operational support command at West Mercia Police said the force hoped the number would make it easier for people to report crime and also ease the pressure on the 999 system.
"Every day, we receive a number of inappropriate calls on 999 which stop or delay people with real emergencies getting through to us," he added.
Explaining how the system worked, Supt Adrian McGee from Warwickshire Police, said: "When calling 101, the system will determine your location and connect you to the local police force. You will receive a message telling you which police force you are being connected to."
The forces said that in an emergency, such as when a crime was in progress, people were in danger or there was a threat of violence, callers should continue to ring 999.