Scrabble victory for new champion Wayne Kelly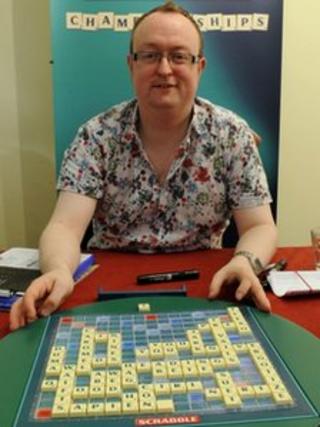 A man from Cheshire has been crowned the new national Scrabble champion.
Wayne Kelly, 37, came up with high scoring words including travails, worth 74 points, and caromel, meaning to turn into caramel, worth 69 points.
The financial adviser from Warrington beat Gary Oliver, 39, from Southampton, to claim the £2,000 cash prize at the annual event in central London.
He said he was "so happy to have won" and admitted the board game had became a "big part of my life".
Mr Kelly, who had been the favourite to win the best-of-five-match showdown, said: "I was really up against it for most of the competition. There were some tough games.
Countdown runner up
"I was really nervous about the final - it is so much easier to play when no-one else is watching your every move."
He said he had always enjoyed playing the board game had but never considered himself particularly good at it when he was younger.
It was only after being runner-up on TV game show Countdown in 1994 that it was suggested to him he might be talented at Scrabble.
His victory came after a number of near misses in previous years when he failed to reach the final.
"I really didn't want to settle for second place again," he said. "I am so happy to have won."
The match came after months of heats contested by more than 300 players.
Mr Oliver was something of an unknown entity, meanwhile, having entered relatively few tournaments in the past.
The 40th National Scrabble Championship final took place at the Hallam Conference Centre near Regent's Park.